SpeedBot Overview
All in one Algorithmic Trading platform where Smart Investors meets the cutting edge Technology.
SpeedBot enables the power of Auto-Trading Technology to the pocket of each and every Investors, No matter if you already know the Quantitative Analysis approach or you just Trade equity based on fundamentals.
SpeedBot Toolsets
With SpeedBot we've got it all covered for different Trading nature or strategy.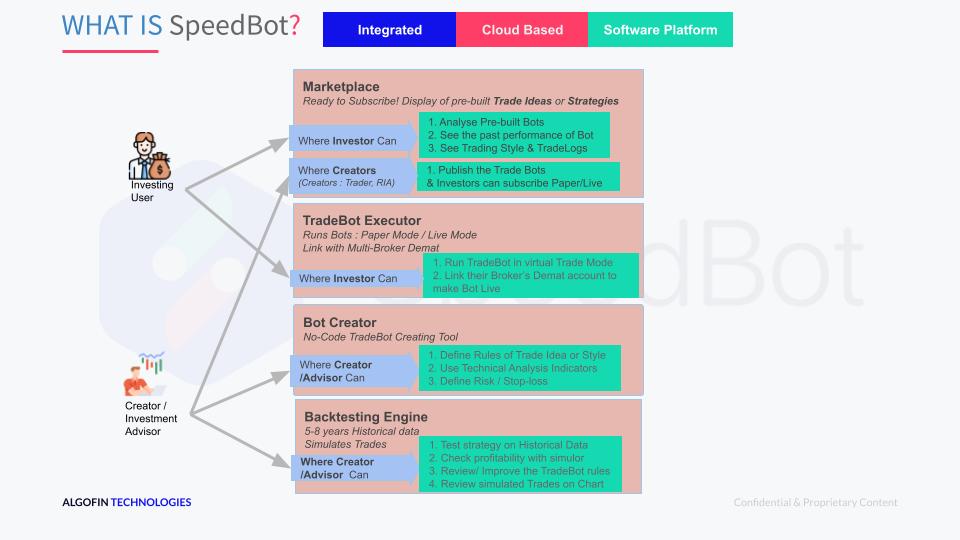 Its an institutional grade, centralized end-to-end Algorithmic and Auto Trading platform that supports :
Bot Marketplace : A place to analyse and subscribe, a live market tested Trade Ideas published by Advisers.
Precision Backtesting Tools : when we say precision, we really mean it and know the importance of it.
No-Code Bot Builder : An intuitive tool-set, for which Trade data analysts were looking for across the world.
Paper Trade to Live Market : Test your Trade Bot strategy on Live Market data with virtual capital. SpeedBot provides the real-time app notifications when your Bot is taking Trade positions or closing the positions.
Auto-Trade Executors : Your Trade SpeedBot will talk to your favourite Broker for the Trade.
FAQ
Where do I start?

Well, If you already have a strategy to build, just straightaway go for building a bot based on your trading strategies and after testing it on our Backtesting Engine, if you are satisfied enough, just go for live trading on our Trading Engine. Now sit back and relax. The bot will trade on your behalf. If you have no idea of trading, just hire a bot from our marketplace where Trade Gurus have built expert bots based on some sophisticated strategies.
Does SpeedBot charge anything on my trades?

No, SpeedBot never charges on your trades.
Is Paper-Testing allowed on SpeedBot?

Yes, SpeedBot supports paper trading. Experts suggest going for paper trading first before going for Live trading when trading with a trading bot.
Does SpeedBot guarantee Profits?

No, the trading market is highly unstable. Carefully read all instructions before operating your investment. Future results are not totally dependent on past performance. Always use stop-loss while building strategies. Do not contribute beyond what you can stand to lose.