SpeedBot Mobile App
SpeedBot Mobile App serves as the comprehensive Interface for users to keep an eye on your bots.
Marketplace
Once you sign-in with the SpeedBot mobile app, it will get you to the marketplace screen where you find all the listed TradeBots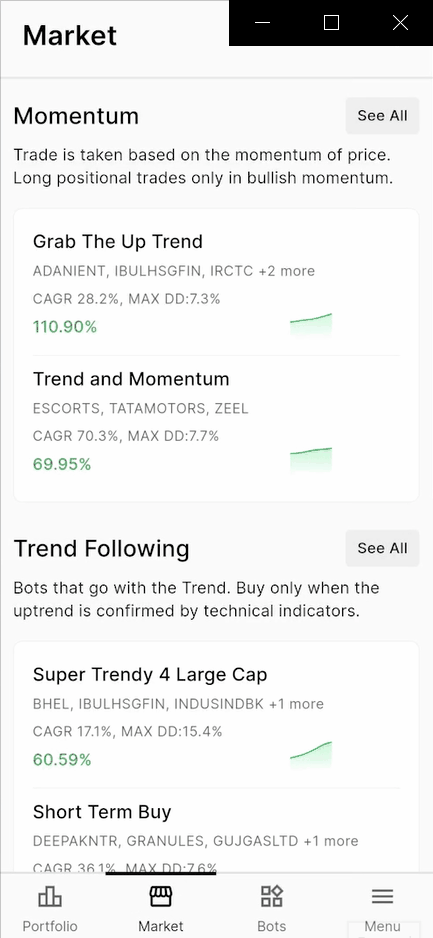 Each category represents type of TradeBots
Each Tradebot card shows %gains by the particular TradeBot in the BackTesting analysis over the period of 2 or 3 years of history.
It also highlights the CAGR (i.e. Compound annual gross return) & Max DrawDown percentage.
Backtesting Reports
Once you get-in the details of the TradeBot, You'll see all the Backtested Analysis Bot Statistics (Eg. BreakOut Buy Tradebot in the GIF)
View the details of Initial Capital, Candle interval, Duration, etc.
Moreover, review the Total Profit
Realistic Brokerage Fees to compute real net profit of the trade bot
Total trades in that duration i.e. how much were profitable and how much were loss making.
Further in details you get each positions and orders that Bot could have taken
Paper Trading
Once you've checked the Bot details and want to put it to Test, you can do that just by subscribing the bot into the Paper Trade Mode. - Without involving your real demat account - As it simply simulates the virtual trades on real market time and data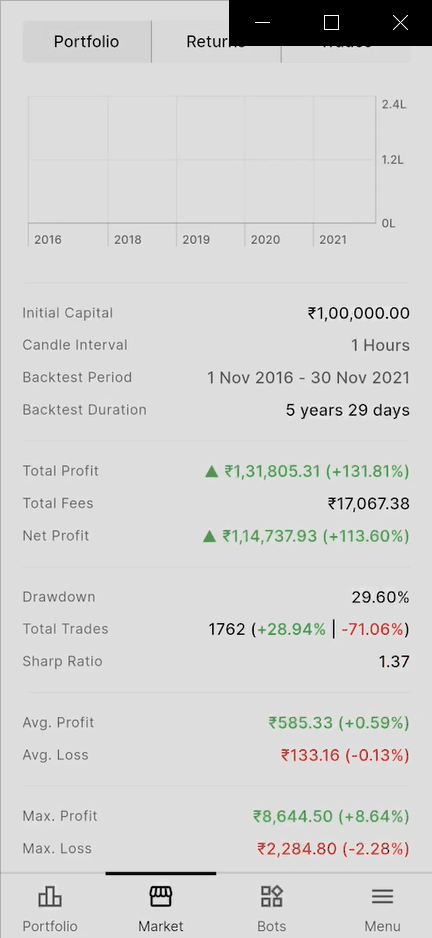 Portfolio
The portfolio screen, which shows an overview of Portfolio,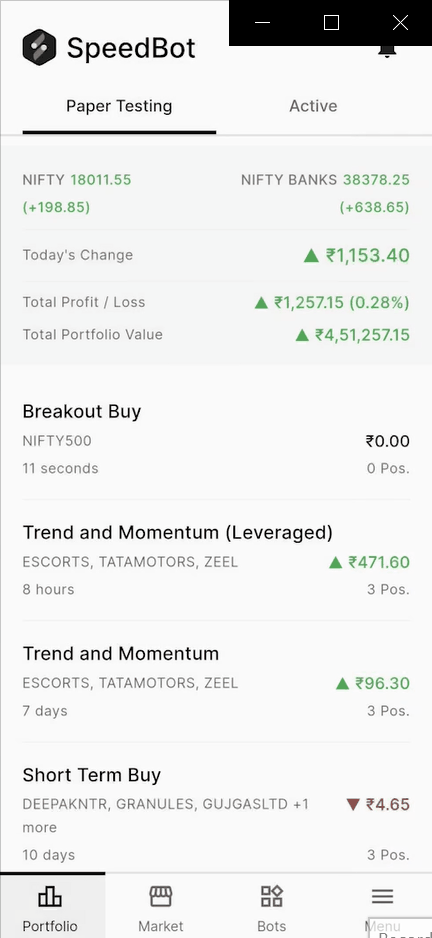 Here you can find following details
Today's change
Total profit and loss
Total Portfolio Value
Apart from that, the individual Bot Perfomance with the details like
Scrips on which Bot is trading
Bot deployment duration
Todays Profit and Loss
No. of Positions taken today
Deployed Bot Details
Watch a detailed Portfolio of deployed Bot (Eg.Trend and Momentum(Leveraged)) , - At the top it shows how your trade bot is performing over the period of time since you have started. - Apart from that it shows today's change in portfolio and total portfolio value - Find all scrips positions the bots has taken whether it's a long or short position - View real-time Entry Price and Exit price and the quantity of the included positions. - You can easily find profit & loss of each positions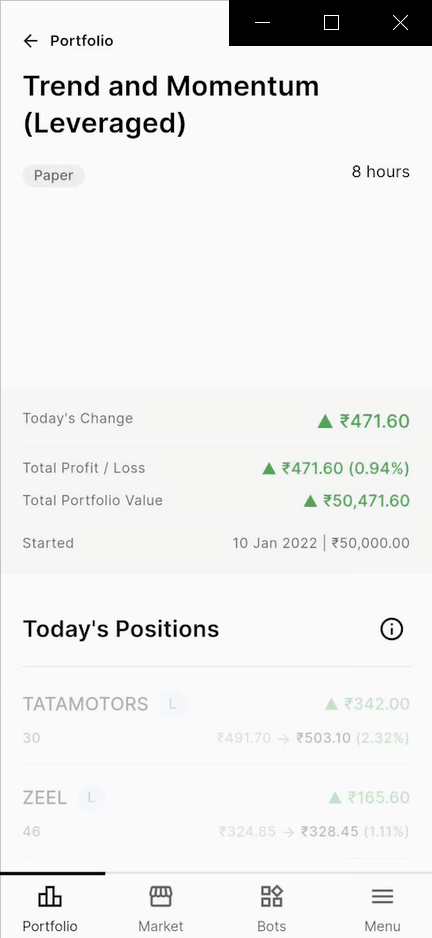 Notification
SpeedBot app will send you the notification of actions taken on Orders. You can enable/disable it by clicking on Menu -> Notification